By Makers Gallery.
We can't believe it's that time already.
2021 flew by and we hope that it brought you some good moments, as it did us. While it's encouraging to see some light at the end of the tunnel with borders opening, the reality is in 2021, many of us fell upon hard times and are still feeling the effects of that. Makers Gallery is genuinely all about support, passion and community, so reach out if there's something you feel we can help with. It could be anything from mentoring to firing, Tony's photography service for work you hope to sell, exhibiting, education or simply a quiet coffee at Makers Gallery, in-house immersed in ceramics or in the sun of the gallery garden.
We want to help you send off 2021 with at the very least, a great moment of giving in the holiday season, so we've put together our biggest gift guide yet, designed to cater for all budgets and interests. We're also giving away a gift with every buy in December; a repurposed chandelier ornament. We're giving these away until the box is empty and they're absolutely beautiful. If you'd like to see what they look like, head to the Makers Gallery Instagram and watch the reel we posted on December 9.
Also keep in mind that if it's too hard to choose a gift from the list of things below, we offer gift cards as an option (message Makers Gallery's social media or call 0417 886 185 to arrange this).
Happy giving! Don't forget to treat yourself to something special as well this holiday season.
$25 and under
They're A Coffee Lover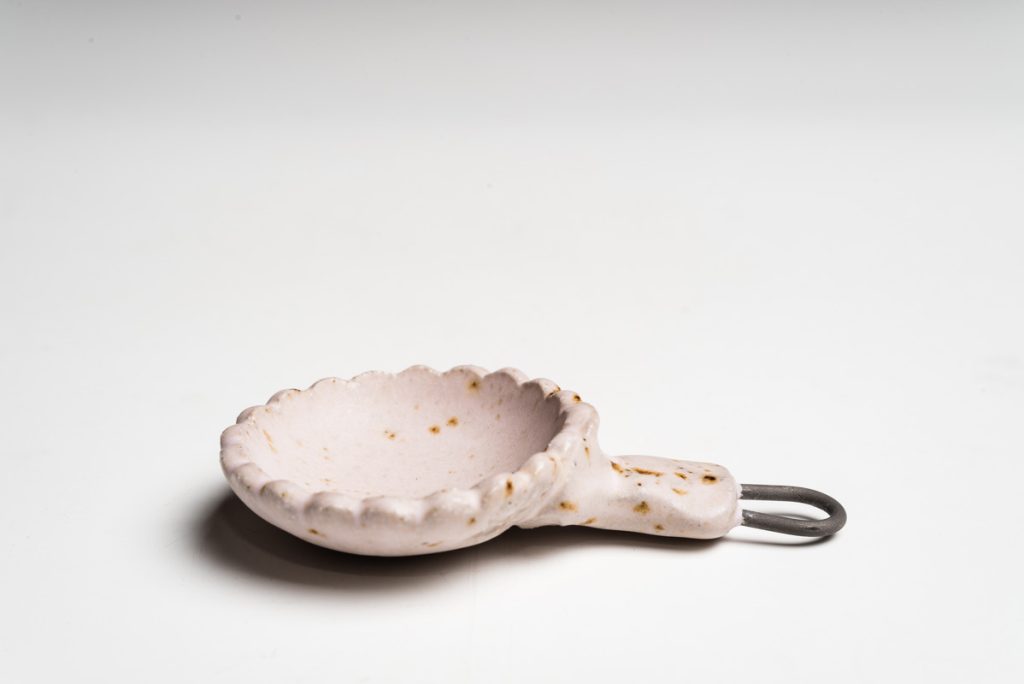 We're excited to offer this gorgeous coffee (and tea) scoop by Lucy Be. Suited to most budgets, this cute little gift would be a great stocking stuffer. We can also make it a bigger affair with biccies added on request or coffee beans…just let Stephanie know (0417 886 185). We have many friendly coffee people in our lives… Katie and Mark of Black Sheep Coffee Woolloongabba, the crew at Shambhala Espresso Wooloowin and Sacha of Reuben Hills Surry Hills (who fires at the gallery).
Price: $22.
Where from? Makers Gallery, Clayfield. Open as a one-stop-shop for gifts by appointment. We also offer delivery (free personal delivery from our hands to yours in Metro Brisbane). The above scoop from Lucy Be, as well as a teapot with a West Australian Jarrah wooden handle are available to buy on the online store.
Read our introductory interview with Lucy Be on our previous blog post.
They're A Bookworm
Did you know Makers Gallery is a stockist of The Journal of Australian Ceramics? We currently have 11 copies of Vol 60 NO 3 and stacks of back issues for you or your giftee's reading pleasure. What's better than a moment of quiet in the holiday period with a good read and a cup of coffee?
Throughout the year of 2021, we offered a free back issue with purchases off our online store. Keep your eyes peeled for upcoming promotions on our Instagram (or DM and ask nicely…something could be arranged…minimum purchase $50).
Price: $20.
Where from? The Journal of Australian Ceramics can be purchased in-house at Makers Gallery.
$25 to $50
They Love Gold
Super Christmassy! Thrown and handbuilt stoneware with gold lustre by Rachel Cramer.
Price: $30 for the small vase and $40 for the cup.
Where from? Makers Gallery on-site and online.
They're Bold
Daniel Garretson's amber plates simply cannot be ignored. Load them with treats on Christmas Day and if you're looking for a set, add the amber mug, jar and striped serving plate to your cart.
Price: $30.
Where? Makers Gallery on-site and online. We won't blame you if you can't just choose one. Ask about our pay as you go system which could see you building your dream collection for less than the cost of a pizza a week.
They're A Foodie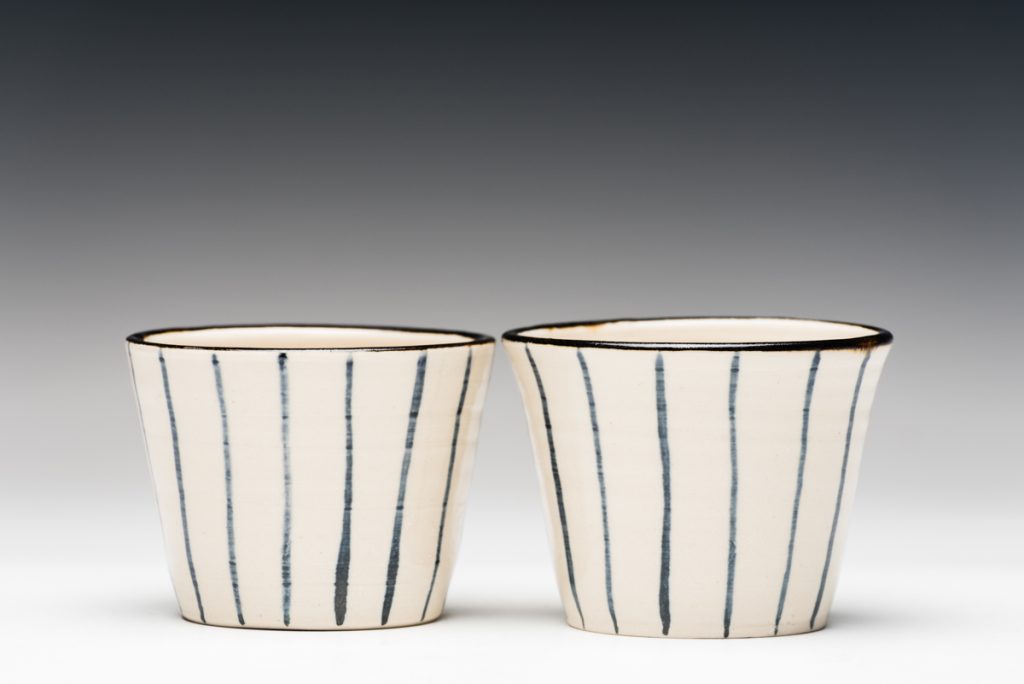 Woodfired bowls, Kiseto cups, Kiseto bowls, pears (yes…pears!), a bean, an Oribe bowl, vases, mugs and cups; Yoshi Takahashi has it all.
Price: Cups with linework $45, Kiseto cup $40 and Oribe bowl $50.
Where? Check out the three pages of foodie heaven from Yoshi Takahashi on our online store. There's something for everyone!
$50 to $90
They're A Tea Drinker
We have all things tea on our online store. There are boundless options for last-minute gifting, which you're welcome to pick-up by appointment from the gallery or have us personally deliver (Metro Brisbane). We'll even add tea and chocolate on request and can post gifts with a card direct to your person if need be. Picture the lovely things below with tea and a good book on Boxing Day… bliss!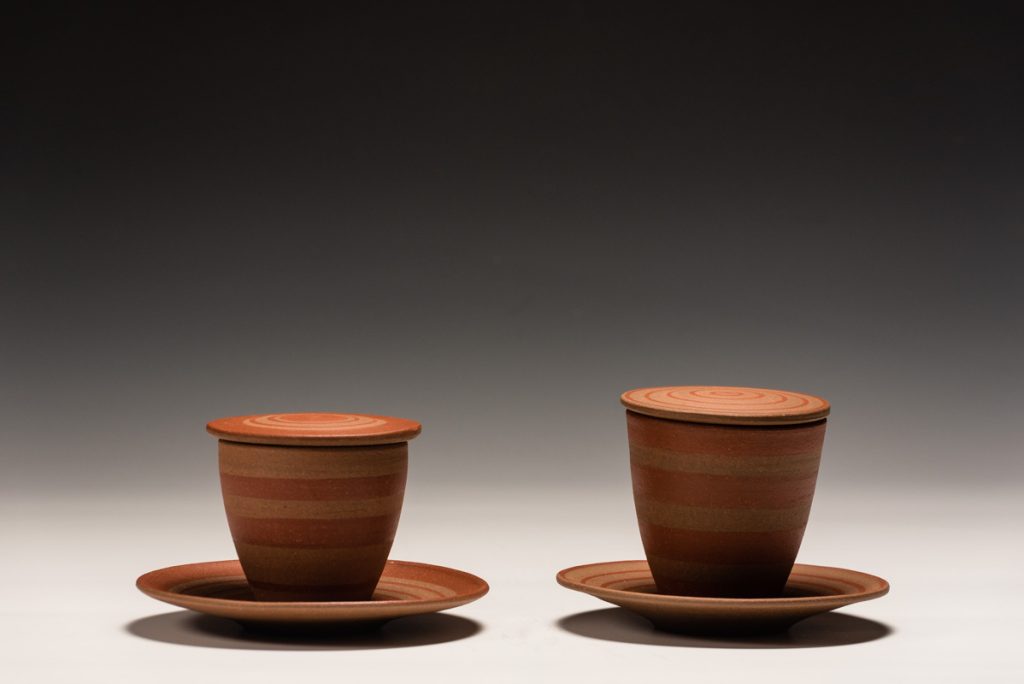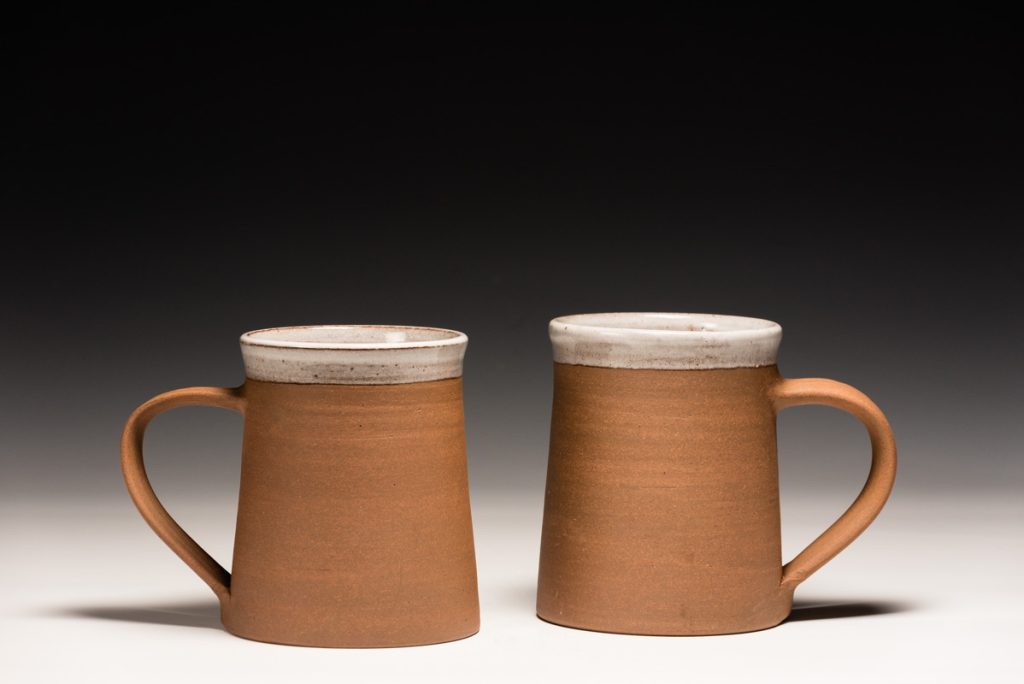 Above: John Ullinger mugs and teacups (thrown and hand decorated).
Price: Lidded teacups $50, mugs $80.
Below: John James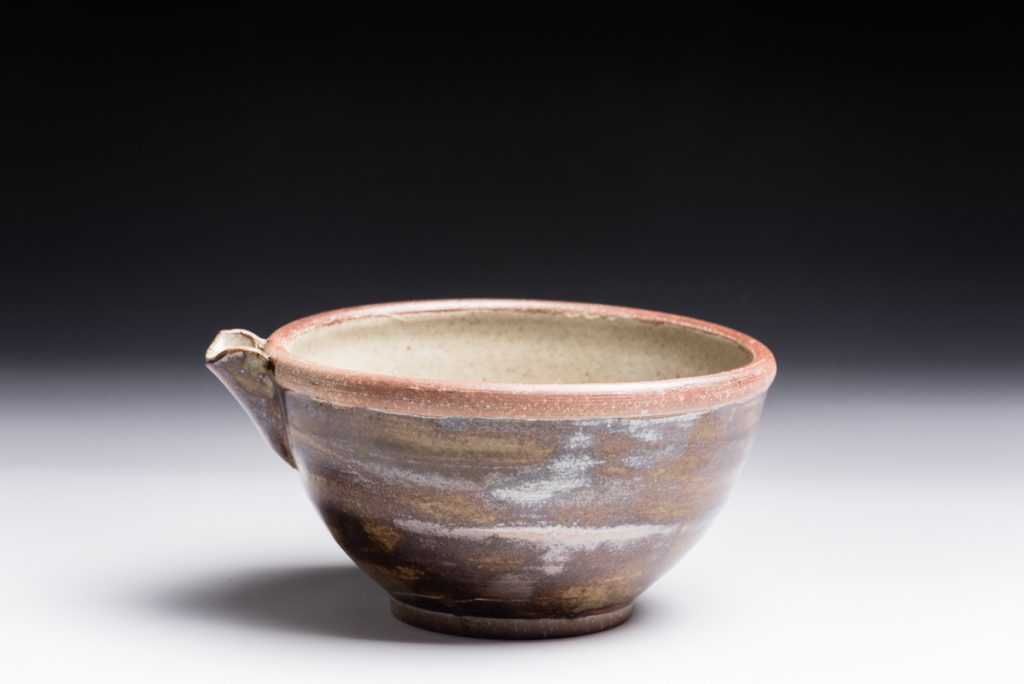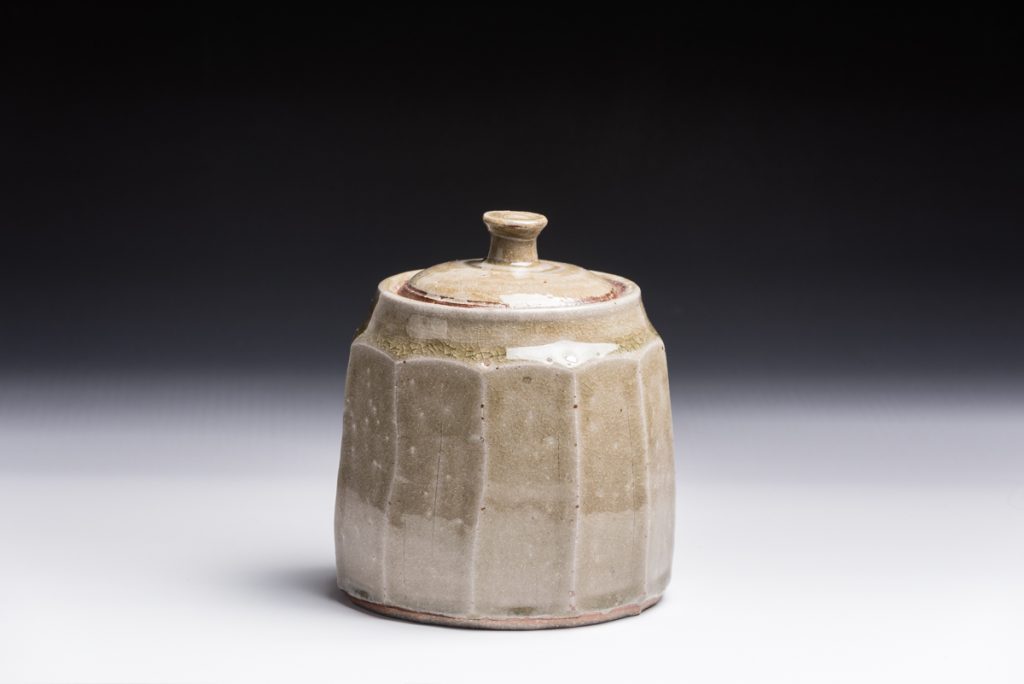 John James spouted bowl, jar and milk jug.
Price: Spouted bowl $70, jar $80 and jug $80.
They Love Beach Holidays
While you can't have a holiday in the Maldives just yet, you can still connect with the urge and surge of the coastal fringe with the work of Lyn Bates and Megan Puls.
Lyn Bates ceramic with wire coral and found objects #2042. Bring the coast to you with this lovely piece.
Price: $70.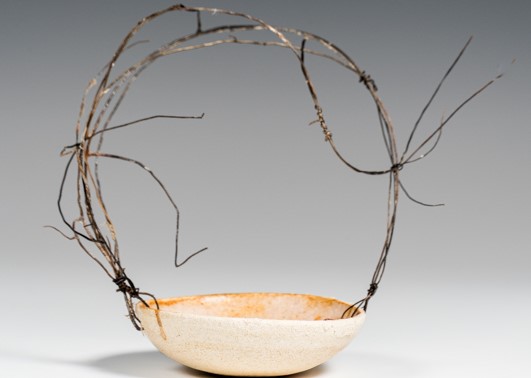 Lyn Bates ceramic with wire coral and found objects #2041. A very special gift for Christmas, bound to be a cherished addition to any home. Alternatively, a lovely Easter Basket for next year (it'll come around quickly)! Lyn Bates is currently showing at Makers Gallery. Get in touch to set up a time to see her incredible work in the flesh.
Price: $80.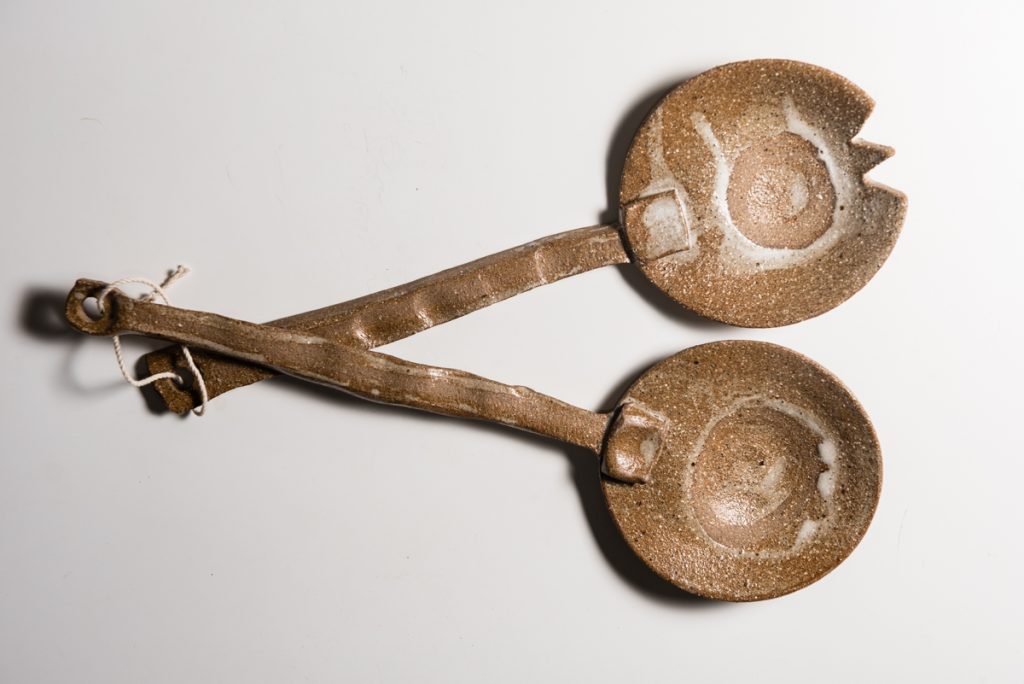 Megan Puls ceramic salad serving utensils. Great for summer get-togethers.
Price: $45.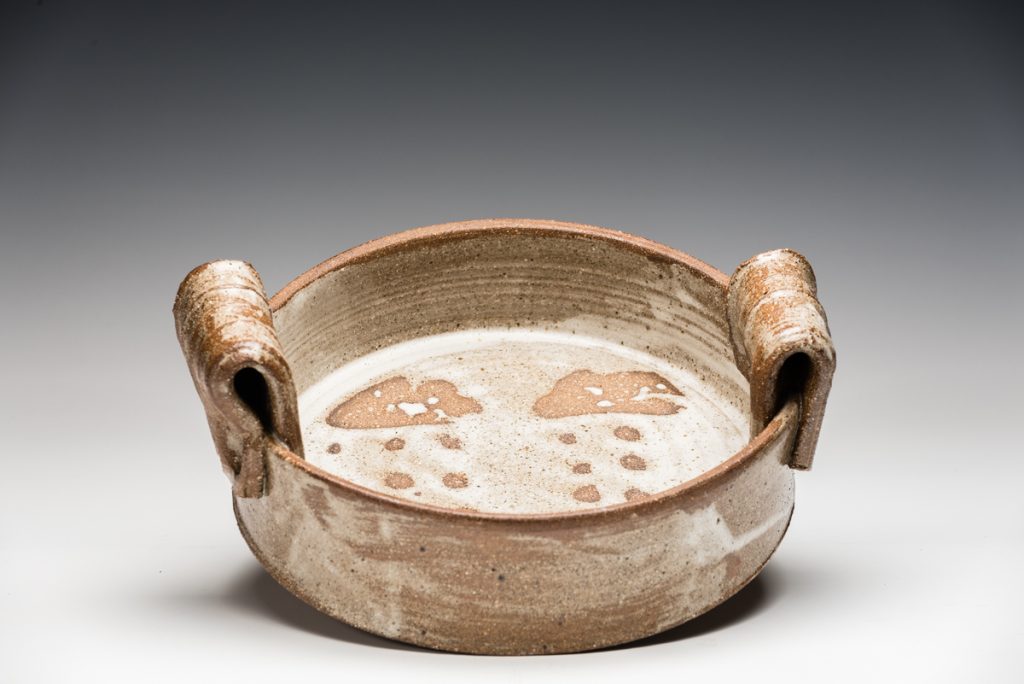 Megan Puls serving dish.
Price: $90.
They're Baking The Christmas Ham
It's a big responsibility. Thank that special person in your life for all they do with these striking coil-built black clay condiment bowls from Linda Leftwich. The bowls have a liquid crystal exterior and are dishwasher safe. Perfect for seeded mustard, sugar, cloves, star anise, cardamom, salt and pepper.
Price: $70.
Where from? Makers Gallery. You can explore our collection from Linda Leftwich online or reserve a time with Stephanie to experience (and lovingly hold) the pieces in the gallery.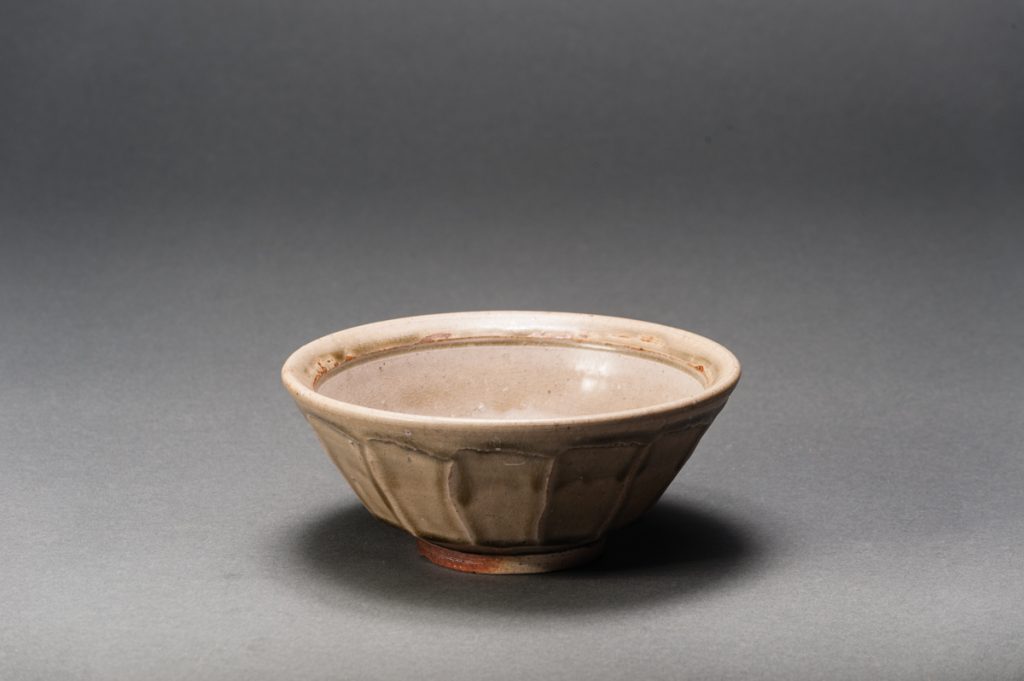 John James bowl for nuts and chocolates.
Price: $90.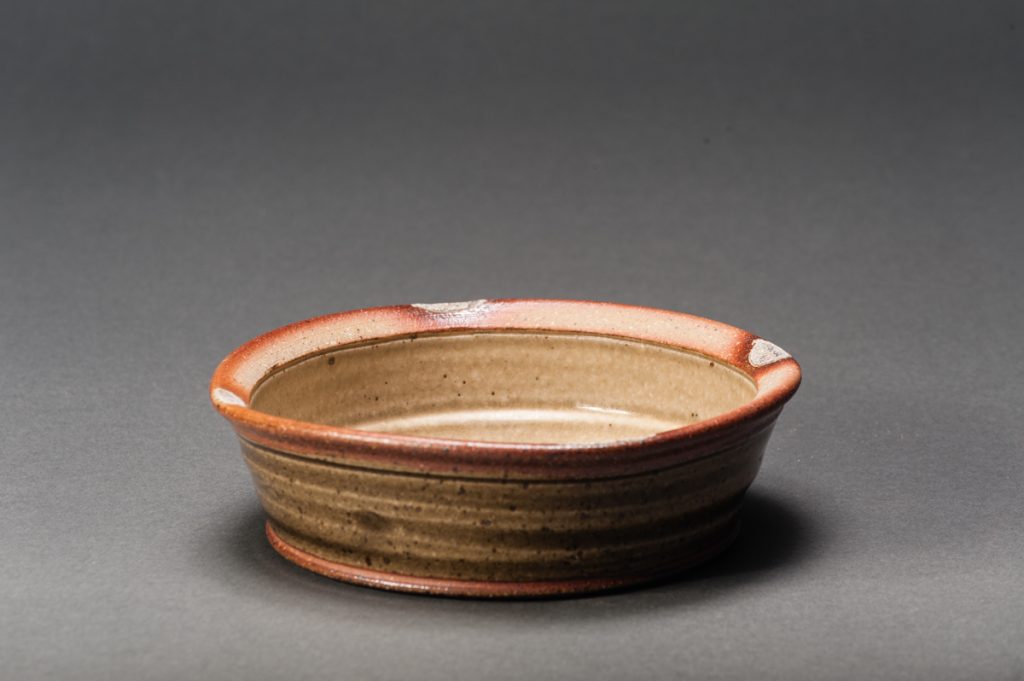 John James wood fired bowl. Speaks for itself. Picture this on the table for Christmas Dinner.
Price: $70.
$100 to $200
They Love Nature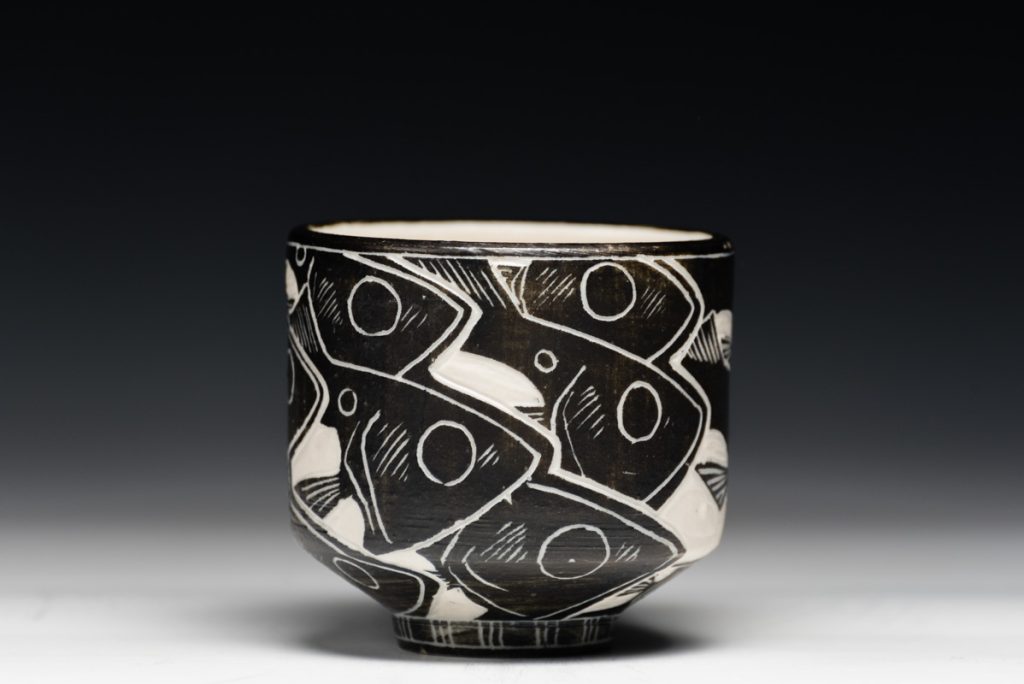 Tim Christensen's sgraffito on porcelain works. There's also a Galapagos Islands Whiskey Set available ($550).
Price: $150 for 'Shoal' and 'Squids'.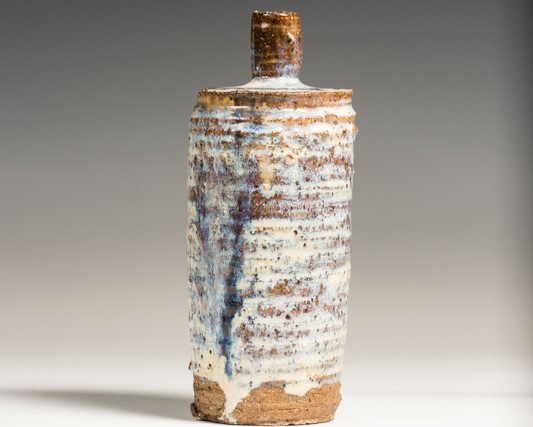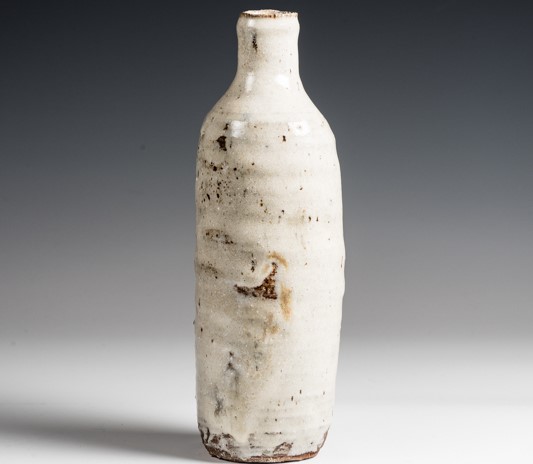 James Murfet uses wild clay and glaze materials for his vases. Gift a vase this year with a sprig of something or some flowers.
Do you know someone having a wedding next year? They serve as wonderful centrepieces for special occasions.
Price: $150.
You'll Have A Drink With Them On Christmas Day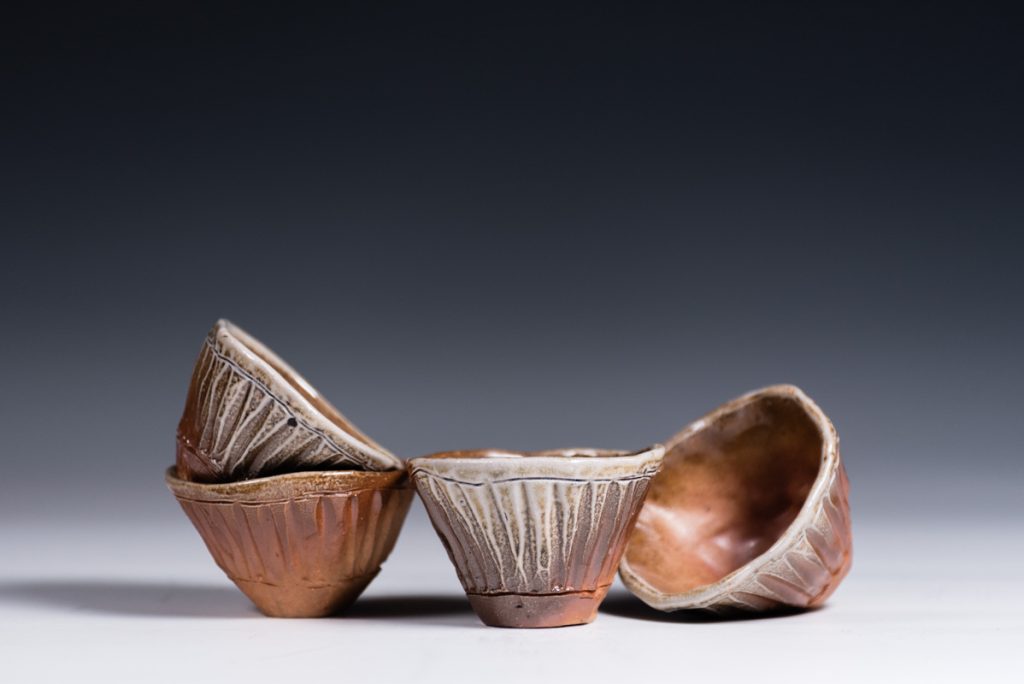 Suvira McDonald set of four sake cups. Ideal for sharing a summer sake in the garden (or in the air conditioning).
Price: $180.
Where from? Makers Gallery on-site and online.
They're Creative
Give the great gift of knowledge.
Stephanie has a schedule of classes and workshops in mind for next year (2022). This Christmas, organise credit with Stephanie for a future session and put the good news on a card. You can pop it in the stocking of your loved one, or perhaps on the workstation of a friend or workmate. It's a truly unique and useful gift for someone in your life or could even be a gift for yourself that keeps on giving. We'll supply the tools and the know-how and in years ahead, you could be the Maker gifting your own handmade presents.
Meet new people at a Summer Series workshop or make a bowl one-on-one by booking a private session. The experiences offered are varied and can be tailored to you and your giftee, or credit can be given if you don't yet know which class will suit. Get in touch with Stephanie on 0417 886 185 to discuss the right fit for you or the adventurous person in your life that loves to learn.
Past workshops have included clay classes for adults of all levels, children's clay classes, found-plastic jewellery-making, object photography, resin jewellery-making, embroidery on paper, making mobiles, collage cards and porcelain jewellery-making.
There's more workshops on the horizon for different kinds of 'making', so get in touch with Stephanie via phone, or DM Makers Gallery's social media to find out what could be coming in 2022.

Please let us know what you think of our guide.
As for delivery of the above, it's from our hands to yours. Makers Gallery offers a pick-up option or personal free delivery in Metro Brisbane. Further afield, we'll just charge enough to cover transport costs. Don't fret if you're across a border or across an ocean: we post anywhere! Order off the online store and we'll mail your item on or by the next business day.
We'll be open by appointment at 53 Jackson Street, Clayfield in Brisbane over the next week for your Christmas shopping needs and for viewings of Lyn Bates' breathtaking solo show 12 Degrees. Call or text 0417 886 185 to organise a time with Stephanie or DM the Makers Gallery Instagram.
Wishing you a safe and pleasant December and a Happy New Year. Love from,
Makers Gallery
Blog post not sponsored.